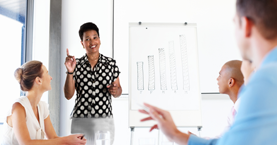 Training & Retreats
---
Lauren conducts workshops for corporate, non-profit and governmental agencies and organizations in the areas of leadership, team-building, effective communication, cultural competence, sexual harassment prevention and intervention, facilitated dialogue and training-of-trainers.  Her sessions range in length from two hours to two days.  Lauren brings to her workshops more than two decades of training experience and a sincere desire to truly be of help to her clients. The goal of her work is to help teams and entire organizations to increase productivity by enhancing human relationships through heightened self-awareness, improved communication and greater conflict avoidance skills.
As a workshop facilitator, Lauren is active and engaging.  At the individual level, her practical and dynamic presentations captivate and challenge participants to achieve higher levels of self-awareness and thus personal growth.  At the group level, her work is designed to foster insight, dialogue and understanding among employees. Lauren's sessions are highly experiential.  She uses interactive, adult learning techniques including role play, video, simulations, small group work, large group discussion and lecturette. Her background in both philosophy and law supports discerning and realistic approaches to complex organizational issues.

The Executive Office of the President, (White House Staff), Washington, DC
The Congressional Hispanic Caucus Institute, Washington, DC
The U.S. Department of Energy, Tulsa, OK
The U.S. Information Agency, Washington, D.C.
The U.S. Forest Service, Greensboro, NC
The U.S. Department of Interior, Bureau of Indian Affairs, Washington, DC
The U.S. Defense Intelligence Agency Command, Washington, DC & Huntsville, AL
The U.S. Coast Guard, Baltimore, MD
The Chief of Naval Operations, Washington, DC
The U.S. Department of Health and Human Service's Office of Substance Abuse Prevention, Berkeley, CA. and Jackson, MS.
The Export Import Bank of the United States, Washington, DC
The National Association of Women Judges, Washington, DC
The American Bar Association, Las Vegas, NV
The District of Columbia Bar Association, Washington, DC
The District of Columbia Department of Parks and Recreation, Washington, DC
Montgomery County, MD Government Employees, Rockville, MD
America On Line, Vienna, VA
The Westinghouse Corporation, Columbia, MD
The Texaco Corporation, The U.S.
The Enron Corporation, Houston, TX
The Sallie Mae Corporation, Reston, VA
The Interstate Natural Gas Association, Washington, DC
The National Education Association, Washington, DC
The National Association for Protection and Advocacy Services, Dallas, TX
The National Association for Student Diversity, Washington, DC
The National MultiCultural Institute, Washington, DC
National Public Radio, Washington, DC
The Washington Metropolitan Area Transit Authority, (METRO), Washington, DC
The Ocean County, NJ Public Library, Toms River, NJ
Calvert Group, Bethesda, MD
Melrod, Redman & Gartlan, Washington, DC
Burdette Tomlin Hospital, Ocean City, MD
California State University, Northridge, CA
California Polytechnic State University, San Luis Obispo, CA
Howard University, Washington, DC
Bowie State University, Center for Alternative Dispute Resolution
The University of Hawaii, Honolulu, HI
The University of Alaska, Anchorage, AK
The University of Maryland at Baltimore, Baltimore, MD
The Washington, DC Rape Crisis Center, Washington, DC
The Jewish Historical Society, Washington, DC
The Institute for the Healing of Racism, Germantown, MD
The American Speech-Language Association, Rockville, MD
The Junior League of Washington, Washington, DC
The Association of Adventist Women, Takoma Park, MD
Public Citizen, Washington, DC
Samaritan Village, Bronx, NY
Project Return Foundation, Bronx, NY
Parklawn Training Center, Rockville, MD
The Baha'i Institute for Race Unity, Columbia, MD
Community Development Commission, Housing Authority of the County of Los Angeles, Alhambra, CA
City of Long Beach Commercial Services Bureau, Long Beach, CA
"You are an exceptional facilitator. You bring knowledge, insight and passion to the work and that is a potent combination.  I expect to make considerable use of what I learned at your workshop.  You are leaving a deep thumbprint on the world."
Michael R. Wenger, Deputy Director, The President's Initiative on Race, Washington, D.C.

"As you well know, the subject area, (sexual harassment), is complicated and sometimes controversial.  Nevertheless, you did an excellent job in communicating fundamental issues in a non-threatening manner…. The briefing received praise from those who attended for its professional quality and practical usefulness."
Sharon L. Solomon, Equal Employment Opportunity Director, Executive Office of the President of the United States, Washington, D.C.

The training was really excellent and the book talk touched hearts. Your style of teaching truly brings out compassion in your students and listeners. You have a gift.  Thank you so much for touching everyone's heart."                                                                                                   Shazia Zaman, Branch Manager, Point Pleasant Beach, Ocean County New Jersey Library System   

"EXCELLENT" across the board.  Ms. Nile is a dynamic presenter who made a 100% connection with those who came to listen.  The insights she brought to us were thought provoking, clearly expressed, and above all, strongly motivational.  I not only learned from her but left the training with a new sense of purpose and hope for society."                                                                                                                                                                 Anonymous Workshop Participant                                                          

"Thanks again for a great job at our team building session on Monday.  The day was so much fun that the eight hours went by quickly and it was very useful to all who attended.  You are the best!"
Jerald V. Halvorsen, President  Interstate Natural Gas Association of America

"Lauren Nile is a gifted teacher.  She is able to respond to each of us as individuals as well as to us as a group and representatives of all groups.  She is knowledgeable and can transmit /transfer information to us so we can all hear it and the discussion in class demonstrated that WE GOT IT."
Anonymous participant in conflict resolution course conducted for The Center for Alternative Dispute Resolution, Bowie State University, Bowie, MD.

"Thank you for the outstanding programs you have designed and presented to Montgomery County Public School support staff over the past years. You have repeatedly developed and achieved on-target objectives for inservice training programs, interacted positively (and often with a great sense of humor!) with a diverse group of participants, and shown sensitivity in meeting the unique training needs of adult learners.  Many MCPS employees perform more effectively on the job as a result of your efforts."
Carolyn Franklin, Staff Development Specialist, Montgomery County, MD Dept. of Personnel Services

"This letter is to acknowledge Ms. Lauren Nile as one of the most outstanding facilitators that I have ever encountered.  My husband and our two daughters have attended many of her lectures and workshops sponsored by the Baha'i Institute for Race Unity.  We have found her to be vastly stimulating and informative.  Each time we hear her we want to hear her again and again.  She moves us to the point of joining hands and hearts enlarging the circle for a better world."                                                                                                                                                                 Maxine  Oliver

"Thank you for the insightful presentation you provided…Your candid and insightful discussion helped the panel members better understand the challenges that lie ahead in successfully managing diversity…The panel members particularly appreciated you personal interaction and your clarity."                                                                                                                                                                                                                       M.F. Martus, Captain, U.S. Dept. of the Navy, Office of the Chief of Naval Operations, CNO Executive Panel.

"Again, as you can see by the evaluation ratings, your presentation was certainly well received by the staff.  In fact, I can't remember any evaluation results that were as consistently high as these ratings.  One participant, when asked to evaluate the level and complexity of the presentation, even scratched out the 'about right' rating and wrote, 'just right.'  More than one staff member remarked to me that they were not looking forward to this training program but they were pleasantly surprised by your approach to this subject."
Edward W. Baker, Human Resources Manager, American Speech-Language-Hearing Association, Rockville, MD

"Formal evaluations of the meeting as well as informal comments from participants overwhelmingly indicated that Lauren did a superb job as facilitator.  Both her professional and personal demeanor were outstanding throughout the meeting.  We at SEDL were fortunate to have met and worked with Lauren."
David L. Williams, Vice President, RSI, Southwest Educational Development Laboratory

"The workshop Lauren Nile presented provided me with increased insight regarding both the history and present day experience of African-Americans…….Paradigms can be broken down when people are provided the research, different perspectives and experience through activities and documentation, (videos, maps, articles).  This brings about a transformation in both mind and heart.  Lauren did a great job in getting all this across in a professional and non-threatening environment.  In many ways she let the material speak for itself.  This kind of knowledge is the key to achieving understanding and empathy which will ultimately lead to the healing of society."                                                                                      Joanne Fisher, IBM Corporation

"Your knowledge of the subject, the direct but non-confrontational approach utilized and your compassion and sense of humor in dealing with a most sensitive issue combined to make for one of the most successful seminars offered to date."
Corinne Robinson, RN,BSN, Director of Education, Burdett Tomlin Memorial Hospital, Cape May Court House, New Jersey

An e-mail sent to the Personnel Director of The American Occupational Therapy Association, Inc.:  "Just a note to let you know that I thought the sexual harassment seminar was most valuable.  I have to admit that I was a bit skeptical going into it, but I certainly learned a lot and think that everybody who participated in the seminar was enlightened.  I thought Lauren was an excellent speaker and did a good job of presenting both the female and male perspective on this sensitive topic.  Thanks."
Derik Rice, Employee, The American Occupational Therapy Association, Inc., Bethesda, MD

"After attending this workshop, it became quite apparent that the only way to effect real change in this society is by the kind of candor and calmness displayed by Ms. Nile.  I have seen others attempt to attain the same goal without as much success.  The difference, in my opinion, is the manner of presentation.  While others have been very emotional, still harboring hatred and resentment, Ms. Nile had an aire of peacefulness about her, making her presentation in a matter of fact manner."
Anonymous workshop participant

"Lauren is a terrific instructor/facilitator".  "Striking in her practical suggestions and manner of reacting to issues."
Anonymous participants, cultural diversity workshop conducted for the District of Columbia Bar Association, Washington, D.C.

"Thank you very much for presenting a most stimulating and informative program on sexual harassment"…"It has been my experience this year that the sign of a successful program is the number of questions and level of participation from the audience. You certainly attained both!"Sarah Shepherd, Program Committee Chair, The Junior League of Washington

"Lauren is a respectful, patient and knowledgeable facilitator."
Anonymous participant in a Training of Trainers Course, National MultiCultural Institute, Washington, D.C.

"I would be the first to say that the Pharmaceutical Network is a tough audience and I was personally amazed by the control and courteous discussion you maintained.  You had them captivated."
Mark V. Johnson, Executive Committee, Professional Pharmaceutical Representatives Network

"A day with Lauren Nile is truly a delightful experience.  Her wit, encyclopedic knowledge of the contributions that various cultures have made to world civilization and her gentle manner not only educate, but also stimulate the student to continue seeking long after the session has ended.  I look forward to participating in many more of her workshops."
Fulton Caldwell, Ph.D., Health Scientist Administrator, National Institute of Health

"Your generous attitude and straight forward approach has turned staff attitude about attendance at this program from a dreaded mandate from on high to an opportunity for growth.  Individuals who have not yet attended are asking for a fall schedule now."
Barbara Kidd, Staff Development Specialist, Montgomery County, MD Government

"You are and always will be one of my true heroes and greatest teachers in life.  Thank you!"                                                                          Bridget Sampson,  President, Sampson Communication Consulting

Results of 2015 workshop, "Working Effectively with Difference"

Q:  What specific content of the presentation was most relevant to your work?

Being aware of the hurt caused by bias and making a real effort to not perpetuate the pain when dealing with clients and consumers.

Learning to be aware of unconscious bias so you can work and get along better with coworkers.

The definition of diversity was very helpful.  I work with a wide range of students and parents.  This workshop helped me to be more aware and sensitive.

The idea that many complaints in the workplace started with jokes which people didn't realize offended.

Learning how I need to not joke in inappropriate ways even when I am comfortable with it and my colleagues act like they too are comfortable.

Being aware of snap judgments.

The importance of diversity competence.

The definition of diversity was very helpful.  I work with a wide range of students and parents.  This workshop helped me to be more aware and sensitive.

The extent of my privilege and how it affects every part of my life.

Q:  List two points that you will use in your daily practice:

Being conscious in the moment.

Being more empathetic.

Being more understanding.

Thinking before I act.

That diversity is diverse.

I like to tease and joke.  This workshop was a great reminder to be careful about what I joke about.

Monitoring of unaware cultural bias.

Awareness of unearned privilege.

Respecting the individual as well as their group.

Self-check when jumping to judgments too quickly.

What makes a person who they are mostly are things we can't see.
Lauren is available to facilitate retreats for both large and small teams and organizations. In preparation for the event, she will meet with a client representative in order to obtain a firm understanding of the specific goals of the retreat. Based upon those goals, she will then design an agenda which includes a series of exercises and discussion techniques intended to maximize both participant engagement and enjoyment, including a variety of very short, fun team building exercises designed to build team cohesion. Before facilitating the retreat, she will secure the client's approval of the designed agenda. Jeans, shorts and sneakers are the most common attire at retreats facilitated by Lauren! She is available to facilitate retreats from a half-day to three days in length.
Thank you for working with Nile Speaking & Training.