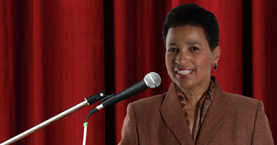 Keynote Speaking
---
Lauren has often been described as a powerful, moving and inspiring motivational speaker.  The themes of individual and group empowerment permeate her speeches.  Lauren's fundamental goal as a keynote speaker is to open hearts and minds by communicating a compelling vision of human interaction and relationships founded upon self-awareness, emotional intelligence and respect for self and others. 
The following are among the organizations to which Lauren has delivered keynote addresses:
The Washington Post, Washington, DC
Society of Women Engineers, Washington, DC
Institute for Women's Policy Research, Washington, DC
Pharmaceutical Professional Representatives Network, Hartford, CT
Howard University Law School, Washington, DC
Association of Democratic Women, Washington, DC
Americans for Democratic Action Educational Fund, Inc., Washington, DC
Montgomery County MD Department of Health and Human Services, Montgomery County, MD
West Virginia State Conference of Branches of the NAACP, Charles Town, WV
State University of New York at Stony Brook, Stony Brook, NY
International City/Council Management Association, Washington, DC
NationalMultiCultural Institute, Washington, DC
National Council of Negro Women, Washington, DC
California Polytechnic University, San Luis Obispo, CA
Group Health Association, Washington, DC
Keuka College, Ithaca, New York
IMPACT of Greater Hartford, Hartford, CT
Bucknell University, Lewisburg, PA
Palm Desert Greens Democratic Club, Palm Desert, CA
Testimonials
"From all accounts, the students really enjoyed you, and even more importantly, they found your presentation to be quite informative.  Sometimes, unbeknownst to anyone, a presentation like yours can have a significant impact on an individual student's learning perspective and what they pursue in their own self-discovery…Lauren, I knew when we met that we'd collaborate on something good.  I hope we have the chance to do more."
Jacqui Love Marshall, Director of Personnel, The Washington Post
"While I personally was not able to attend your presentation, many staff have approached me to let me know that you were both moving and inspiring."
Charles L. Short, Director, Montgomery County, MD Department of Health and Human Services
"Thank you so much for your wonderful presentation.  You are truly a dynamic and inspiring speaker."
Sue C. Perlgut, Assistant Professor of Theatre, Keuka College
"Your presentation…was truly one of Group Health Association's highlights of the year.  I can say that the Black History Committee was impressed to hear the many accolades given you and your speech.  The Regional Medical Director said it was the best presentation that he had heard in four (4) years."
Delores Floyd, Administrative Assistant, Group Health Association
"On behalf of everyone at IMPACT, I want to thank you for helping to make our 10th Annual Symposium one of the best ever.  Your keynote address, 'Career and Life Planning in the Nineties—Reaching Your Goals and Living Your Dreams', was right on target with our theme and set the stage for a very exciting and rewarding day.  The response to your message was overwhelmingly positive.  We were all inspired to take charge of our lives and to DO SOMETHING to make our dreams real."
Natalie Mendes for the Executive Board and Symposium Committee, IMPACT of Greater Hartford
"Your presentation on…empowerment…was informative, uplifting and most of all, it gave us a practical means by which we may move from our present complacency.  The people who attended found your presentation enlightening, uplifting and many said it offered a new perspective on our present condition."
Robert Thwaites, Jr., Commander, Slade Valentine Post American Legion
"The Fellows really enjoyed the seminar and were impressed with the scope of your information."
Marge Sklencar, Executive Director, ADA Educational Fund, Inc.