Available Now at Your Favorite Local and Online Booksellers!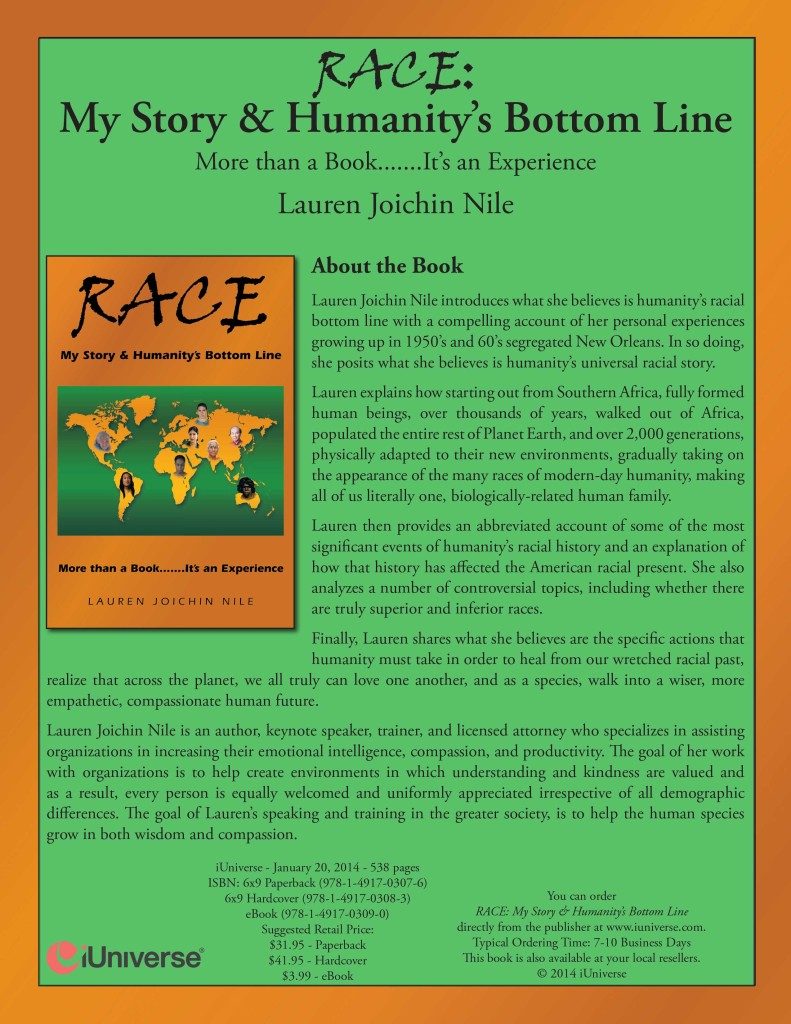 Click to Buy the Book:
iUniverse
Barnes and Noble
Amazon.com
Clarion Review
Excerpt
Website – Race: My Story & Humanity's Bottom Line
  What People are Saying about
  RACE:  My Story & Humanity's Bottom Line
Out of the blue, a couple of days ago, I received an incredible book from you – Wow – thank you so much!  You have put together an amazing amount of information for anyone wanting to learn or teach about diversity or anyone looking for resources on the history of racism and much much more. Congratulations!!!  I'm so proud of you!
Liz Salett, Founder and Former President, The National MultiCultural Institute, Washington, D.C.
WOW.  I have just finished your book and it is SO GOOD. First, your memoir was written with such heart. There is just enormous credibility in your voice because you start from a place of honoring every human being and that then invites the reader into reading from a place of compassion as well as intellectual curiosity.  I learned a lot.   And to be honest, I thought I would stop after the memoir, because I'm not really a non-fiction reader, but then I started skimming and THEN I got drawn in — your writing style is so easy to stay with — it's so conversational (it really IS the way you talk Lauren!)  I'm not sure how you did it, but you managed to be so comprehensive — so inclusive of so many experiences and so steady in cutting through everything.   Thank you so much for the gift of this book.  It is both grounded in fact but rooted in decency.  I hope it continues to get a wide readership because it's a really important book — it should be required reading for all college freshman. 
Laura Shipler Chico, Actor, Writer, Storyteller
"I'm loving the book!  It is outstanding!  Your writing is so beautiful.  I'm absolutely riveted and chilled to the core by the way you hauntingly describe the realities and how they felt for you at the time. I'm almost halfway through the book and learning so much from the sections on all the different cultural groups you covered.  I'm finding myself deeply moved by every section. Yet your voice of optimism and hope shine through it all. It is definitely touching reaching both my mind and heart, and I'm sure it'll do the same for many others. Your book is so unique that I would think it's a matter of reaching out to the right readers who are ready for something so transformative and then I can only imagine how the word will spread like wildfire. Thank you for writing this book – it's just what we all need."
Bridget Sampson, Sampson Communication Consulting
"This book is brilliant. It touched me deeply and taught me so many profound and meaningful lessons. Ms. Nile's story about growing up in the segregated south in the US and then experiencing the signing of the Civil Rights Act brought history to life for me. Reading about that time through the lens of the author's childhood memories was incredibly moving. The science of race is also explained eloquently and clearly, in ways that challenged my notions of reality and helped me understand that we all truly are brothers and sisters. Ms. Nile's insights on where we need to go to move beyond the pain of our racist past and present are spot on and if everyone would read this beautiful book, our world would be a very different, much more loving and peaceful place. Well done, Ms. Lauren Joichin Nile. Your book was life-changing for me and I thank you for pouring your heart and soul into it with such intelligence and passion. I'll be a loyal fan forever and hope to read more of your work!"
Amazon Reviewer
"Lauren Nile's compelling story of growing up in Jim Crow New Orleans in the supportive African American middle class community Pontchartrain Park, teaches how life's most important lessons are learned. She delivers on her promise to show how all humanity is connected, how our differences are miniscule, and how much misery whites have inflicted based on irrational prejudices. The question she leaves us with is this: Will we be able to grow into our full potential selves and transcend bullying and greed for a society based on the common good? "
Amazon Reviewer
"Wow! I enjoyed this raw, and interesting journey Ms. Nile has shared with us. She leaves no stone unturned and I appreciated hearing a different perspective on the challenges of race. We can all learn from each other's life experiences. With an open mind I embraced the journey. Lauren, thanks for the attempt to educate and unite a species. "
Amazon Reviewer
"I'm halfway through your book now and it's amazing!! I know you're destined to become  a major force in moving our planet forward and raising consciousness in a loving and  kind way."
M. Stern, Organizational Development Trainer and Consultant 
"I started reading your book and quickly realized that it's a page turner."
Helen Heinrich, University Librarian
"The book was very intriguing…..It made me think about things that as a white  person I'd never thought about before…….I learned a lot……I think that  I've changed my attitudes."
Dean Arnold, University Librarian
"Your book is a delightful, educational read."
Guy Rathbun, Radio Producer/Interviewer
"Such wonderful and needed work."
 Barbara Carpenter, Realtor
I was inspired to write RACE: My Story & Humanity's Bottom Line – More than a Book…….It's an Experience by my fervent belief that humanity can and indeed eventually will mature beyond racism and walk into a brilliant future in which compassion is the universal human norm. The book is actually more than a book, it's an experience because the e-book contains more than 200 links to short You Tube videos, movies, movie trailers, television documentaries, TV mini-series, articles, books, freedom songs, Dr. King's speeches and much, much more. Among the most thought-provoking chapters of the book is Chapter VII, "Inverse Realities: Walking in Another's Moccasins", in which I posit a world in which African Americans and European Americans have changed places. If you're interested in how, as a species, humanity can evolve beyond racism, you'll definitely want to read, RACE: My Story & Humanity's Bottom Line.
"RACE, which is both electrified by Nile's personal revelations and bolstered by its careful historicity, stands to make important contributions to extant conversations about race in America."
Michelle Anne Schingler
What People are Saying about
Lauren's Reading
of
RACE: My Story & Humanity's Bottom Line
"Lauren has an engaging, gentle spirit that brings people together in compassion and understanding. The depth and breadth of her exploration of RACE  is inspiring and thought-provoking."
Marian Sherman, HR Professional
"Steev and I enjoyed listening to you talk about your book on KPFK tonight. You knocked it out of the park. Your explanations, like your book, were cogent, measured and meant to edify with loving compassion. It was an embrace of sanity! You are a walking example of an open, engaged heart. Thank you."
Malissa Daniel
"EXCELLENT across the board.  Ms. Nile is a dynamic presenter who made a 100% connection with those who came to listen.  The insights she brought to us were thought provoking, clearly expressed, and above all, strongly motivational.  I not only learned from her but left the reading with a new sense of purpose and hope for society."
Anonymous Participant, Ocean County, New Jersey Library System.
Participant Evaluation from a Book Reading at California State University, Fullerton:
Do you feel the presenter was knowledgeable and presented the material effectively?
Awesome speaker, great stories from her book.
Yes!
Very much so!
Absolutely yes.
Absolutely
Very!
Yes, very much so.  Loved the concepts from the book reading.
Yes, Lauren was very knowledgeable.
What was the most beneficial aspect of today's program?
Listening to her story.
Learning dialogue and language that I can use.
The entire session!
Her personal connection with the audience. Honesty, but with respect.
Lauren inspired me to be better and to check my unconscious bias.
All, but probably the discussion, and the questions and answers at the end.
She made me want to do more exploration of that area.
Hearing Lauren's experience and her perspectives about race.
Describe how you plan to implement the skills and knowledge developed in the workshop.
By purchasing the book and sharing with my friends and family.
I will synthesize this information and find ways to address when I am offended by racist behavior.
By purchasing the book and implementing the techniques.
Lauren's reading has empowered me to continue to bring these kinds of discussions to my classes.
By personally digging deeper into this area.
I need more personal development on ethnicity.
What aspects of the reading could have been improved and how?
None.
Make it a two-hour session instead of one-and-a-half.
Make the session longer and maybe have us buy the book ahead of time and read it beforehand to have a deeper discussion.
I could have stayed all day!